Since

1690
The "Walhalla", as it has been called by the people of Osnabrück for centuries, is Osnabrück's oldest existing inn. Built in 1690 as an inn, it has evolved into a hotel that now spans 8 properties and buildings in the heart of the city. With 69 rooms and suites, conference rooms, a small wellness area and 3 restaurants, the Walhalla is still one of the few privately run hotels in our city. As such, we are a member of "Romantik Hotels International". This cooperation represents more than 200 private hotels in Europe, which are allowed to carry the addition "Romantik" in their name under strict quality standards. Due to the construction years of the individual buildings, up to 400 years, the entire ensemble is not as if from a single mold. The expansions, soundings, conversions and mergers result in a structurally harmonious picture of togetherness. Of course we offer free WLAN in the whole hotel and also air conditioning in some rooms. Cleanliness and hygiene are a big issue. Our housekeeper and her team are the busy spirits that you hardly see, but whose result of their diligence you can feel everywhere. Some rooms are very large, others a little smaller, but all of them have the same, very good comfort that you can expect. If you have very special wishes, perhaps expectations, please let us know; our receptionist and her team will leave no stone unturned to make your stay with us as pleasant as possible.
Restaurant and Historic Ballroom
The Walhalla Restaurant is the heart of our kitchens. Regional products are always reinterpreted in a classic, Mediterranean or modern way, depending on the season. Accordingly, we have many interesting wines and champagnes on our wine list with over 100 growths. You will not find all of them on the menu, but many a special bottle is stored in our wine cellar.
Ask Daniel Sutthoff, our hotel and restaurant director, who will be happy to advise you. In general, he is also your contact person when it comes to events of all kinds, be it weddings, birthday parties, anniversaries, Christmas parties or festive business dinners; with him you are in the best hands. We offer these celebrations with up to 120 people. Classic gastronomy is our business, where people are there for people and provide you with passion and treat each other with respect.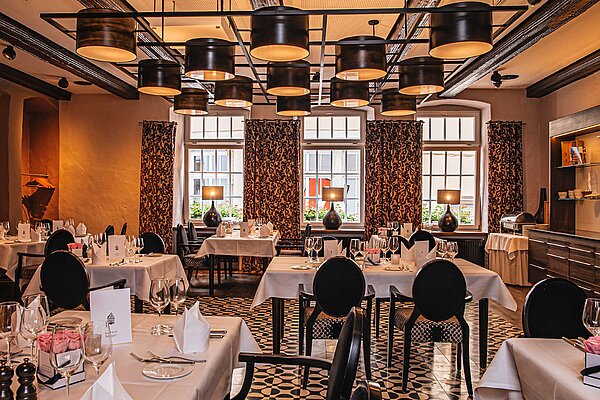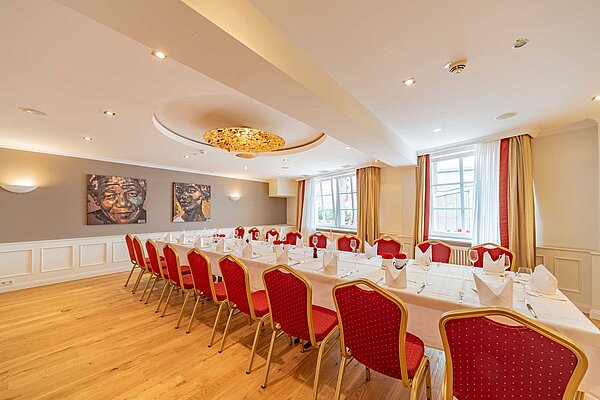 DAVID LOUNGE & BAR WITH WINTER GARDEN
The David Lounge, exists since 2008 and is named after our father / father-in-law Günter David. 
He bought the old Valhalla in the mid 80's as a passionate restaurateur and hotelier and breathed fresh air into the old house again. 
As a memento, we named our lounge after him. Today, it is a household name in the Osnabrück gastronomy scene and beyond. 

Our David Lounge offers outdoor seating in the garden in the summer and a bar and tables by the fireplace year-round. 
As a satellite kitchen to our main kitchen, the kitchen specializes in cooking light Mediterranean and 
international dishes that are uncomplicated and fresh. 

The bar, around our bar manager offers everything you can expect from a good hotel bar, 
from a wide selection of whisky's, gins and vodkas to the cocktail classics.

Walhalla SPA
Under the roof of the old Walhalla we built a small but nice wellness area in 2008. It has a sauna, a steam bath, a sunbathing area, footbaths, relaxation loungers and a separate massage room. You will find separate changing rooms for men and women with bathrobes and slippers. If you are interested in massages, we will be happy to advise you in advance of your arrival and arrange appointments with our masseuse, who will then be available at your desired time.