Our youngest "baby" is also the oldest house.
The OLLE USE EssBar is a good 400 years old.
Here you will find a fresh and young pub and gastronomy concept with its own kitchen. The idea is called "Food prepared to be shared" and offers all the dishes to share; about every two weeks we change the menu.
We are happy about our two new colleagues Gustavo and Giovanni, who from now on fill the kitchen of Olle Use with life again. A few new ideas and flavors await you; both have their home in South America and bring from there interesting ideas and spices to us. Test what's available, give us constructive criticism and let us know what you like. Depending on the season and offers, the Chef de Cuisine cooks what the guests like, from tapas to regional, from classic to modern dishes are offered.
On the first floor there are snacks and a selection of delicious beers: Tegernseer Helles, König Pilsener and Jever. Currently, you can marvel at the portraits of the South African artist MIES in the Olle Use. Over 20 colorful painted portraits have found a place in the Olle Use. You can read more about them below.
Reservation & Menu
We are looking forward to your reservation at Olle Use EssBar. Thebest way to reach us is by phone or email. Be our guest in one of the most stylish restaurants in Osnabrück's old town. Experience a wonderful culinary time together. Please note that we always answer reservation requests as soon as possible.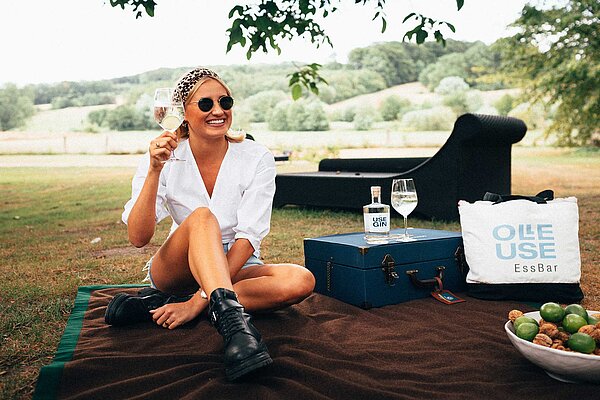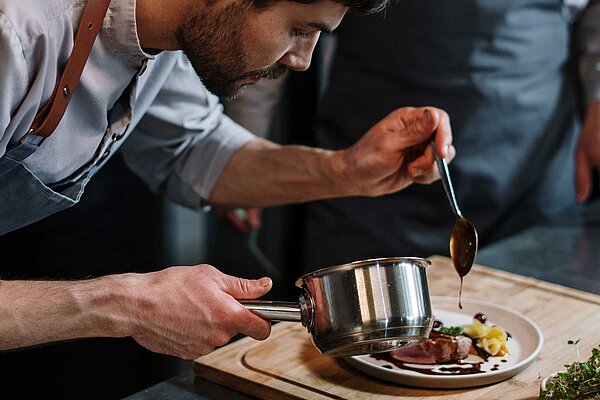 "I think my art resonates with so many, because it is the manifestation of a desire we all have – to encounter beauty. The work is mostly acrylic portraits, with loose brush strokes and lots of freedom incorporated in the process of creating. Because I don't have a theoretical art background, the process is really simply guided by inspiration. A part of the success of my work cannot be felt in a photo though. I love interacting with people as I create, and I feel ALIVE when I get to share the process. I often invite people into the studio, and have weekly live painting sessions. Part of the art, is most certainly just enjoying people's reaction to it." - Erleben Sie die Kunstwerke Live in der Olle Use EssBar! Hier erfahren Sie mehr über MIES...